Well Hidden Art Print by David Vanadia
Limited Edition of 50.
Vanadia showcases his mastery over minimalism for Well Hidden - an artwork made using the "pure, sensitive contrast between black ink and paper." Using art as a language for human emotion, Vanadia strives for the viewer to find their own meaning among this collection of prints. 
"This series revolves around two opposing concepts," David tells Evermade, "movement and impassibility. Although, I don't want to lock the expression into verbal concepts. I'm very happy with the idea that everyone is free to experience this series on their own terms. I think it's more interesting to break free from words and leave the door open to emotions, feelings, silence and reflection." 
Limited edition numbered print with a certificate of authenticity.
Printed using an archival Giclée method on 310 gsm cotton rag paper.
Available in sizes: A3 & A2

Framing options available in Solid Oak, Black and White. Glazed with a crystal clear shatter resistant acrylic (PMMA) for safety.
Artist: David Vanadia
Meet the artist
David Vanadia
David Vanadia is a French artist striving for meaning through minimal graphic artworks.
Artist interview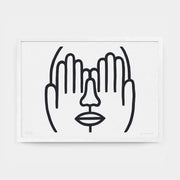 Well Hidden