Porcelain
3.5 x 2.5 cm
Monochromatiques is a collection of porcelain jewels and accessories that are completely handmade at a studio in the countryside near Paris.

Each ceramic piece is unique: it is hand-shaped, then fired at 980°C, glazed with a brush or by soaking, and finally re-fired at 1,240°C, which makes it vitrified and robust. When using metal, different techniques such as the lost wax casting has been applied.

Please note that each piece is hand-crafted and unique, so your actual jewel may slightly differ from the picture.
Artist: Monochromatiques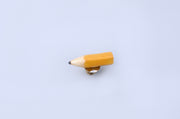 PENCIL Pin