Flag #03 by Otto Iram
Limited edition of 50
In this geometric series by Otto Iram, the artist illustrates his instinctual approach to painting, with subtle variations appearing across each piece in the collection. Abstract and boldly playful in its take on shape and colour, Otto's work is perfect for spaces for kids or grown-ups.

"For these paintings, I worked with flats of acrylic paint on paper using masking tape," Otto tells Evermade. "I mostly use masking tape for my geometric paintings. I made a few sketches before starting, but they change as I paint."
Printed using an archival Giclée method on 240 gsm matt paper.

Available in 3 sizes: A3, A2, A1 
Framing options available in Solid Oak, Black and White. Glazed with a crystal clear shatter resistant acrylic (PMMA) for safety.
Artist: Otto Iram
Meet the artist
Otto Iram
Toulouse-based artist Otto Iram is known for geometric, abstract works across painting and collage.
Artist Interview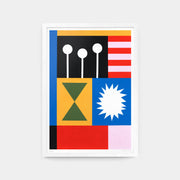 Flag #03