Connection by Hand Jazz
Limited edition; only 50 ever made.
Size: A3 [11.69" x 16.53" / 29.7 x 42.0cm]

Exclusive to the Evermade Editions 'A Decade of Change' collection.

Printed using an archival Giclée method on 240 gsm matt paper.
'My piece is about the vital importance of connection. Building walls and borders, restricting free speech, controlling personal expression and limiting the flow of information prevents us all from making crucial connections which can lead to endless possibilities in the future. I feel excited that the next decade could possibly play a major part in the history of the world.'
Hand Jazz is the moniker of Ryan McAllister, an illustrator and visual artist. Raised in the 'Emerald Isle' of Ireland, he is now busily building his portfolio in London. His work predominantly focuses on the utilisation of bold lines and vivid colours to create a visual hyper-world which contrasts with the ordinary.
Framing Options
Each of our prints are available framed, making them the ideal gift to friends, family or yourself! Read about our framing options here.
Glazed with a crystal clear shatter resistant acrylic (PMMA) for safety.


Artist: Hand Jazz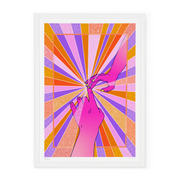 Connection