Camden Town is one of a kind. This eclectic print brings together everything we love about the home of punk rock. The neon of Cyberdog, the smell of incense in the air and the clink clink of studded belts and doc martens stomping along the cobbled paths.

Evermade have worked exclusively with illustrator Jenni Sparks to produce this playful series of home town art prints.

Small: 33cm x 33cm (13″ x 13″).
Large: 61cm x 61cm (24″ x 24″).
Giclée print on matt paper.

About the Hometown Collection
Bright lights, big city! Celebrate your local haunts with a smile, with the bold and playful 'Hometown' prints made in collaboration with illustrator Jenni Sparks. These hand drawn area prints delve into the heart of each memorable area and expose every street corner to bring you the best (and worst) of the place you call home.
Artist: Jenni Sparks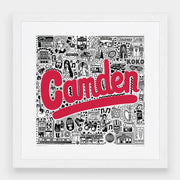 Camden Hometown Print