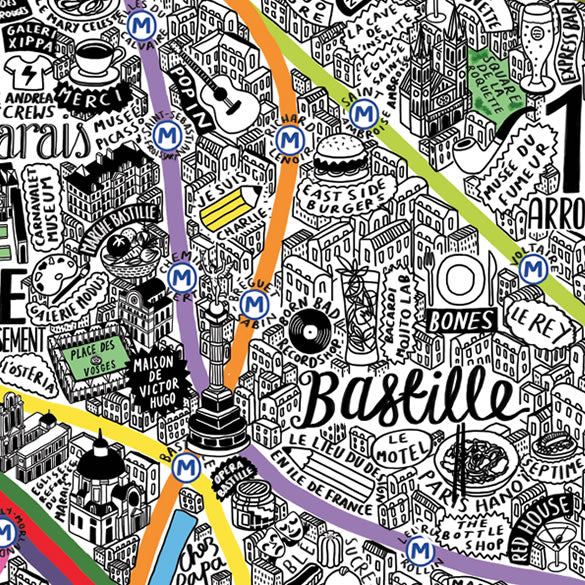 In collaboration with illustrator Jenni Sparks we present the definitive culture map of Paris. This hand-drawn map of Paris meticulously highlights the local neighbourhoods and hidden treasures in the globally adored city.

Giclée print on matt paper, 24" x 24" / 61cm x 61cm
Rolled and wrapped in acid-free tissue.


Paris Mapped in Style
Having spent several months researching Paris, Jenni has managed to illustrate a definitive culture map of the French capital. Featuring various aspects of Paris, from the world-dominating fashion houses and glossy cosmetics companies to the small obscure cheese shops and cafes cherished by the locals, this refreshingly honest map takes a refreshing look beyond the typical tourist route to show it all!

Paris Cartographié Avec Style
Après plusieurs mois de recherches, Jenni est parvenue à illustrer un plan culturel de la capitale Française. Présentant divers aspects de Paris, de ses mondialement reconnues maisons de la mode et luxueuses compagnies de cosmétiques à ses petites échoppes à fromages et ses cafés chéris des parisiens, ce plan, agréablement sincère, donne un air frais au delà de la visite touristique typique. Il vous fera tout découvrir.

Areas Covered
The map covers central Paris neighbourhoods. Covering the central areas of of Champ De Mars; Chaillot; Bastille; Jardin Des Tuileries; Belleville; Levallois Perret; Ménilmontant; Butte-aux-Cailles; Parc De La Villette and more. The map covers the majority of the inner Boulevard Périphérique.

Framing Options
For the ideal gift, all our prints are available framed. Framed in a wooden frame. Glazed with a crystal clear shatter resistant acrylic (PMMA) for safety. Choose between a painted white wash or black finish. Framed prints are send via courier.
Artist: Jenni Sparks
Meet the artist
Jenni Sparks
Jenni Sparks' playful illustration style effortlessly communicates her sense of humour through her intricately detailed hand-drawn maps.
Artist Interview
Hand Drawn Map of Paris