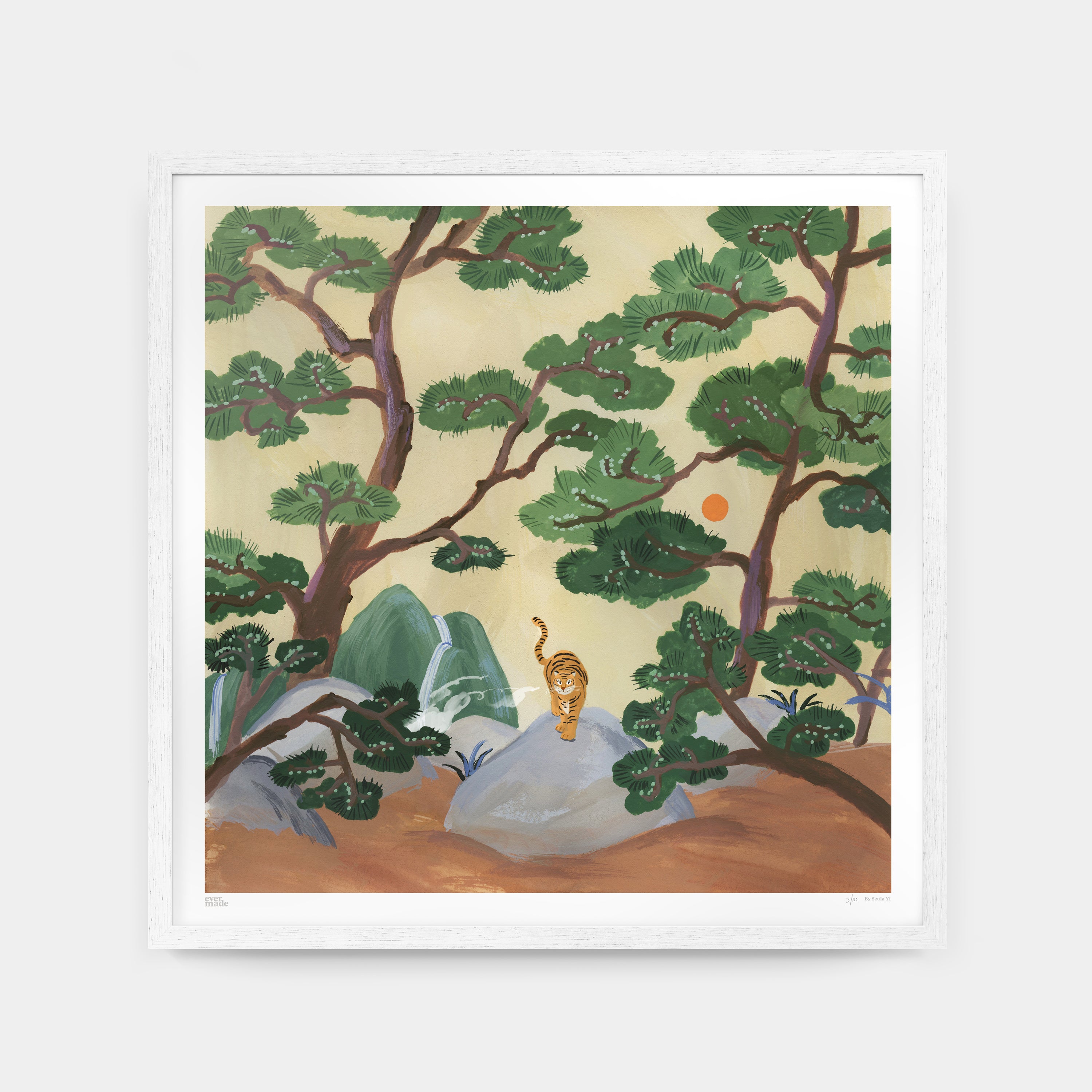 Kingdom by Seula Yi
This limited edition print is part of the exclusive WWF x Evermade art series that has been created by 6 artists from around the world in order to raise awareness of WWF's tiger protection initiative, TX2. 

The warm perspective of observing the city and nature makes Seula Yi's creative special. Looking at her illustrations will turn your daily moments into a mood of eternal warmth. She has been working with global brands across lifestyle, entertainment, and hospitality. Seula's works are at exhibitions and commercial places in Seoul, Tokyo, Paris, and Busan.
"Now, there are few surviving wild tigers in Western Asia, including Korea. As in old Korean paintings, I drew this in the hope that wild tigers could live in the mountains full of pine trees."
Help to secure a future for wild tigers.
By purchasing this print you are supporting the protection of tigers in the wild. This art print series has been created to mark the Year of the Tiger and the ambitious initiative, known as TX2, aiming to double the number of tigers in the wild, from a historic low of as few as 3,200 in 2010, by the end of 2022. This 12 year project is probably the most ambitious global recovery effort ever undertaken for a single species. It involves protecting and connecting the places where tigers live, breed, and disperse. WWF's work is focused on being part of this vital global effort, funding measures to help these fragile populations of beautiful cats recover.
All profits from the sale of this art print are donated to WWF.
By supporting WWF, whether that's through a tiger adoption, a one-off donation, or purchasing this art print, you are helping to fund critical work in important tiger landscapes. At least 40% net sales from this art print go to WWF. This support will help fund such work as improving the management of tiger heartlands, camera trap monitoring and data analysis, and maintaining and improving habitat connectivity.
Limited edition; only 100 ever made.

Size: 24" x 24" / 61cm x 61cm  or  13" x 13" / 33cm x 33cm


Printed using an archival Giclée method on 240 gsm matt paper.

Framing options are available in Solid Oak, Black and White. Glazed with a crystal clear shatter-resistant acrylic (PMMA) for safety.
Artist: Seula Yi
Kingdom