Once in a Lifetime by Hola Lou

An exclusive WWF x Evermade collobaration for Earth Hour 2020.
All profits going to WWF. Click here for more information.

Limited edition; only 100 ever made.
Size: 24" x 24" / 61cm x 61cm
"In this closed environment we call Earth, we all form part of one huge living organism in which every decision, every action and inaction has an immediate effect. It's time to wake up and take back our control over the respect and appreciation we used to have for this planet. We are all one, I believe we have to be united to prevail, I believe it is about time that we realize how lucky we are to be able to experience this once in a lifetime beauty."

Luisa Salas (also known as Hola Lou) is a former Graphic Designer and Art Director. Her paintings and illustrations are based on some of the basic concepts of visual aesthetics: composition, color contrast, and most importantly, balance. Most of them inspired by the ever-changing scenarios of her immensely diverse home country, Mexico.


Printed using Giclée method on FSC certified matt paper.
Unframed prints are packaged in plastic free 100% recyclable packaging.

Framing options available in Solid Oak, Black and White. Glazed with a crystal clear shatter resistant acrylic (PMMA) for safety. 
Artist: Hola Lou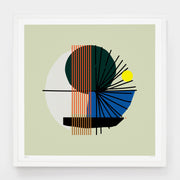 Once in a Lifetime