Colour Life by Camille Walala

An exclusive WWF x Evermade collaboration for Earth Hour 2020.
All profits going to WWF. Click here for more information.

Limited edition; only 100 ever made.
Size: 24" x 24" / 61cm x 61cm

Camille Walala is purveyor of positivity, expressed through vibrant colour and bold pattern. Her work, from the micro to the macro, harnesses optimistic typography and exuberant geometries to create environments that stimulate the senses and inspire joy.


Printed using Giclée method on FSC certified matt paper.
Unframed prints are packaged in plastic free 100% recyclable packaging.

Framing options available in Solid Oak, Black and White. Glazed with a crystal clear shatter resistant acrylic (PMMA) for safety. 
Artist: Camille Walala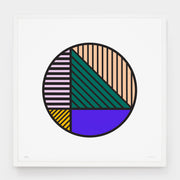 Colour Life