The Ellsworth necklace is a pleasing balance of 2 geometric shapes.

A mint circle sits neatly beside a white triangle offering a striking and minimal addition to any outfit.

Mint resin circle 40mm, white resin triangle 40 x 40mm

The cord length is fully adjustable using the little wooden ball which sits behind the neck meaning you can wear it high at the neck or longer like a pendant making it flexible to wear with a variety of tops or dresses.  Full drop is 45cm.

Comes packaged in our branded black tube.
Artist: One We Made Earlier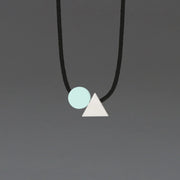 Ellsworth Necklace