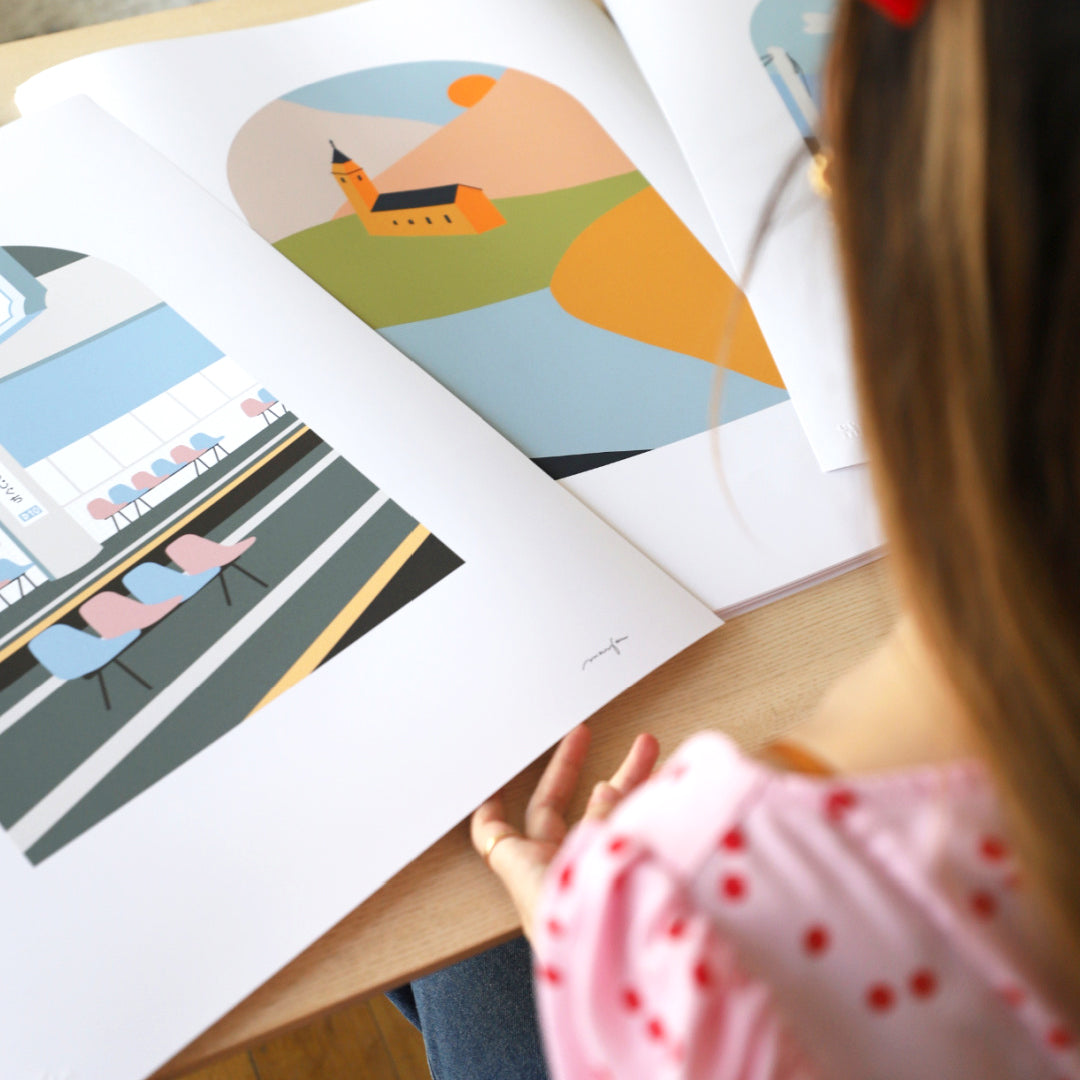 Laghi by Marzia Kjellberg 
Continuing her place-based practice, Marzia Kjellberg has illustrated a trio of personal landscapes based on her own photographs. For Laghi, Italy, Marzia captures the serenity of her hometown with sloping linework and a palette evoking summer evenings.
"Laghi, located in the Vicenza province, is a mountain town that houses less than 130 people, yet it's one of the most striking spots I ever got to spend time in, so it felt right to shine the spotlight on this hidden gem. Although I visited on a rainy winter day, whenever I think of Italy, I think of a warm, safe space I can always go back to, which I tried to translate into this idyllic sunset scene."

Available in 3 sizes and editions:

A1
Limited edition of 10. Signed by the artist. Including a certificate of authenticity. 
841 x 594 mm add an A1 frame here.
A2
Limited edition of 50. Signed by the artist. Including a certificate of authenticity. 
420mm x 594mm add an A2 frame here.

A3
Open edition. Available only until 31st May 2021 23:00 GMT
Digital signature printed on the artwork.
297mm x 420mm add an A3 frame here.

Printed using an archival Giclée method on 240 gsm matt paper.

Supplied unframed. Framing options available in Solid Oak, Black and White. Glazed with a crystal clear shatter resistant acrylic (PMMA) for safety.



Dispatch & Shipping
For orders outside of the UK we recommend selecting DHL shipping at checkout to avoid postal delays. 
Artist: Marzia Kjellberg
Meet the artist
Marzia Kjellberg
Marzia Kjellberg is a ceramicist and illustrator based in Brighton, making "calm, colourful art," full of quiet places and personal details.
Artist interview
Laghi