Art Is What You Can Get Away With
Illustration By Chris Piasick
(28cm x 21cm)
A4 Risograph Print – available to order now.
This print is a brilliant addition for any creative space.
This is a Risograph print, meaning that every print is unique in a subtle way, the process results in vibrant colours which pack more of a punch than a normal digital print process.
Artist: Chris Piascik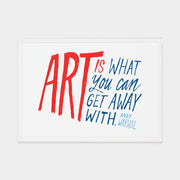 Art Is What You Can Get Away With