Bring a taste of the wild home with you, as each animal presents their own unique character in this rather amusing collection of Zoo Portrait cushions by Yago Partal.
Exclusive to Evermade.com, these cushions make for an uplifting addition to your home, both individually or as a series.
Perfect as a gift or adding a hint of fun to your living room, they are sure to make people smile!
Size: 45cm x 45cm
Digitally printed cotton mix cover, with hollow fibre inner.
Artist: Yago Partal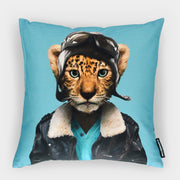 Leopard Cub Cushion